Businesses large and small rely on the PTO Today Idea Pack to cost-effectively reach PTO and PTA leaders at K-8 schools across the country or in specific geographic regions. Similar to a Valpak, our large direct mailer features 4-color ads (front and back) and quality stock.

Rate card >>
Mechanical specs >>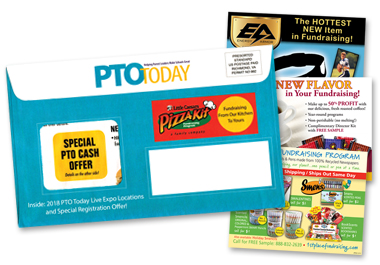 Regional or national distribution
PTO Today will print, package, and distribute your ad in our mailer nationally or regionally. Select one or a combination of 8 target regions for your marketing needs.
Distributed 2x per year
The Idea Pack is mailed directly to parent groups at more than 84,000 K-8 schools nationwide in August and January.
High-quality leads
In a recent online survey, 68% of respondents said they have visited a company website or contacted a company directly after learning about them through the Idea Pack.
Cost-effective reach
Target your message exactly where you want it…and save money because direct mail costs are spread among all participating advertisers.
"Having all the company ads in this single place is great. I pull out the ones that are interesting so I can research them later."
—Nanette Stevens, PTA President,
Brooks Global Studies, Greensboro, N.C.