A paid membership community, this core group of more than 2,500 PTO and PTA groups are heavily involved in their board's decisions and looking to step up their game with a little help from their friends (that's us) in the form of exclusive tools, content, products, discounts, access to our leader support team—and our Plus sponsorship partners.
Category exclusivity
Be the only representative in your category to have direct access to our most engaged and active leaders. Includes right of first refusal to renew your annual sponsorship in your exclusive category.
Web banner
Information about your product or service and an (optional) exclusive offer for Plus members will be prominently displayed on the Plus member pages of PTOtoday.com.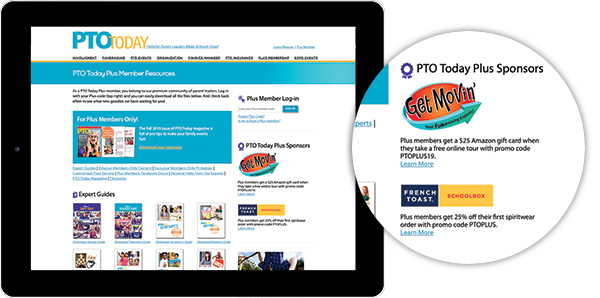 Email and newsletter campaign
Your partnership and company is featured in regular member email and newsletter campaigns directing Plus members to visit your site or get more information.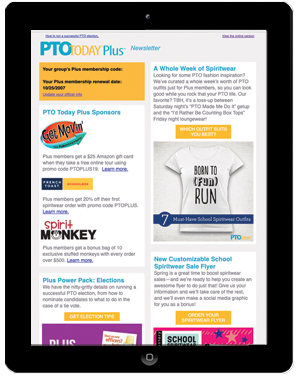 Sponsored promotional content
Our team will combine your messaging and objectives with our SEO expertise and trusted voice to create a custom sponsored article and promotional campaign reaching Plus members. Check out what we created for other sponsors: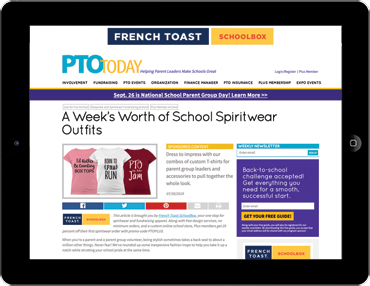 PTO Today Live expo events
Get recognized as a PTO Today Plus sponsor with a special name badge ribbon at our PTO Today Live expo events.
Category flyer and social media graphic
Plus members get access to PTO Today's customized flyer and social media graphic design service. Members select a design from various categories, which PTO Today will then customize with their school's information. Your logo is featured prominently on the category page.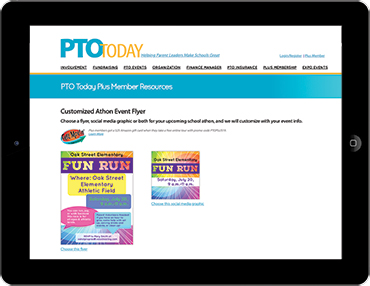 PTO Today magazine
Your logo is included on PTO Today Plus ads in PTO Today magazine.