Our TeacherLists platform has more than 1.6 million school- and grade-specific digital classroom supply lists. With each list shopped by an average of 23 families per season, it's no wonder the top brands and retailers partner with us to tap into this $83 billion dollar industry.
Featured case study
Land your brand on millions of school supply lists nationwide
With more than 70% of parents buying a specific brand if it's included on their child's required school supply list, key consumer brands look to us to leverage their brand presence on lists.  29 distinct product categories comprise the top 50 requested items on supply lists, making category sponsorship a powerful opportunity for your brand to garner greater share of back-to-school shoppers and this $83 billion dollar industry.
We are the data driving major retailers' school supply initiatives
48% of parents choose a retailer based on being able to find items on their child's school- and grade-specific supply list—so it's no wonder TeacherLists is disrupting the school supply shopping industry with more than 1.6 million digital school supply lists and growing! While you might not see us in Target's latest back-to-school commercial, we're powering the data behind their school supply list initiatives—along with those of other major retailers like Walmart, Staples, and OfficeDepot—making shopping for the "big day back" a whole lot easier for parents.
Drive awareness and sales throughout the entire back-to-school shopping journey
Beyond school supply list product integration, we also offer brand message ad units within school shopping lists, retargeting campaigns, and custom research.
The smarter way to find, shop, and share school supply lists
TeacherLists by the numbers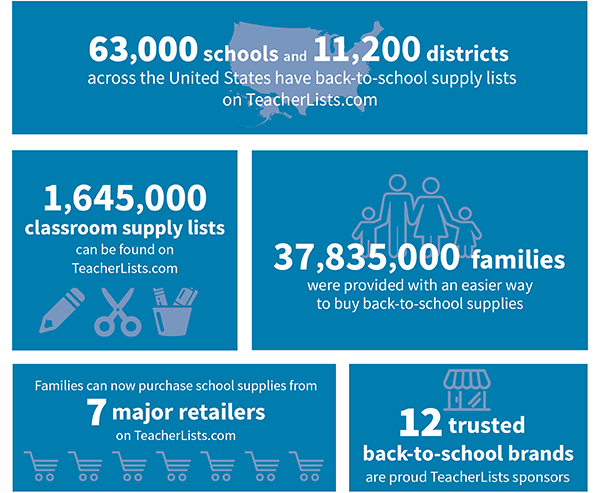 TeacherLists brand and retail partners
Trusted back-to-school brands and retailers like Elmer's, Kleenex, Crayola, Target, and others have partnered with us to make TeacherLists an award-winning product, named a "Top Pick for Teachers" by Scholastic Instructor magazine and an EdTech Digest "Cool Tool."