Key decisionmakers are just one click away from your website. New content, helpful resources, engaging programs, and a dynamic file exchange keep leaders coming back to PTOtoday.com again and again. A run-of-site banner ad campaign keeps your business visible, top of mind, and instantly accessible to more than 180,000 unique PTO and PTA leader visitors per month (more than 220,000 visitors during back-to-school season)! Further increase visibility for your business with a banner ad in PTO Today's Leader Lowdown newsletter, which touts over 40,000 subscribers.

Rate card >>
Mechanical specs >>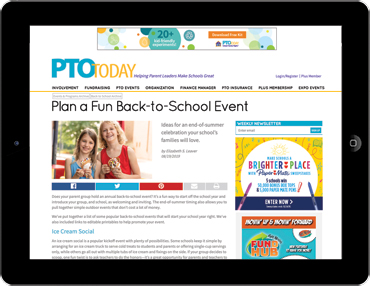 Flexible pricing
Our month-to-month affordable pricing schedule allows you to run your banner ad with maximum frequency and impact and will be seen every day by influential PTO and PTA leaders.
Guaranteed impressions
Reach your target audience every time your banner ad appears on our pay-per-impression basis. Your campaign is guaranteed to run until every impression is delivered.
Run-of-site presence
Banner ads run throughout PTOToday.com and can be geotargeted to cost-effectively reach customers in specific states or regions that best meet the needs of your unique business.
Reach highly engaged leaders with an ad in our weekly email newsletter
PTO Today's exclusive email newsletter, Leader Lowdown, goes directly to the inbox of PTO and PTA leaders who opt in to receive it. This means your banner ad reaches more than 40,000 of the most influential, active, and highly engaged leaders in parent groups across the country who are looking for products like yours. Leader Lowdown includes up-to-date news, helpful tips, discussion topics, and much more.
"Outstanding website with an enormous
amount of information that covers running a PTO or PTA from A-Z !"
—Sherri Hatcher, PTSA President, Palms Middle School, Los Angeles, CA