As the most trusted resource for parent groups at more than 84,000 K-8 schools, PTO Today can align your brand with digital content on PTOtoday.com that's contextual to your business goals or brand message. Or, get PTO and PTA leaders reading (and talking) about your company with original custom content that's developed with your brand goals in mind.
Sponsored Editorial Content
PTO and PTA leaders turn to the expert content on PTOtoday.com for ideas, tips, and resources, all year long. Sponsoring a highly trafficked article (or bundle of articles) is a turnkey way for your brand to stay in front of active PTO and PTA leaders as they consumer content that displays your logo, text and roadblocked banner ads.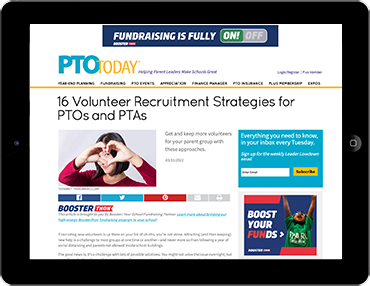 Sponsored Co-op Content
Build awareness (and drive leads) alongside other key players in your category with PTO Today's latest digital content solution that allows your business to share editorial space with a limited number of similar providers in your category. This allows PTO and PTA decisionmakers to easily learn more about the key players and compare the features, benefits, costs, and profit margins to find the provider that fits their needs best.
Sponsored Promotional Content
Partner with our team to create custom content that PTO and PTA leaders want to read. A truly collaborative partnership, our team combines your messaging with our expertise and trusted voice to create custom sponsored articles, videos, and more that reach and resonate with our community of PTO and PTA groups, along with a turnkey marketing campaign that drives interest and traffic. Check out what we created for these brands:




Gated content sponsorship with lead generation
From fun runs and holiday shops to fundraisers, we align your company with contextual gated content that drives a steady flow of leads for your business, all year long. Raise awareness of your services among PTO and PTA leaders who are actively planning a specific type of fundraiser or event and who are interested in hearing how your company can help them achieve their goals. Leads are delivered on a weekly basis, year-round.