PTO and PTA leaders are highly influential parents in the school community. In fact, nearly 90% volunteer for at least one other community organization that relies on fundraising (66% volunteer for three or more). From our flagship magazine and lead generation programs to our turnkey digital solutions and high-energy expo events, PTO Today can help your company reach school parent group decisionmakers at more than 84,000 K-8 schools across the country.
The power of PTO and PTA groups is pretty impressive
Community groups like PTOs and PTAs are responsible for $4 billion (yep, that's a "b") in spending each year, fundraising more than $2 billion and spending those dollars on programs and services for their schools.*
We know the school parent group market inside and out
We're the only company that works with the entire school parent group market at more than 84,000 schools in the United States. Regardless of their acronym (PTO, PTA, HSA, PCC, etc.), we work with them all—and we're ready to do some really great work with you, too. For the past 20 years, PTO and PTA groups have looked to PTO Today's trusted voice and expertise, allowing us to effectively connect your company with thousands of parent groups.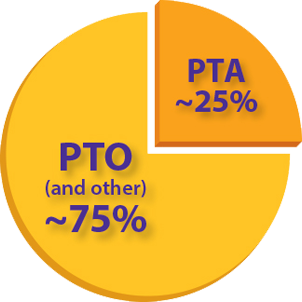 Our consultative approach to your business goals matters
It's why so many companies—big and small—turn to us for both turnkey program execution and consultative, soup-to-nuts work. Our experienced team members have their fingers on the pulse of the PTO and PTA world, enabling us to craft messaging and programs that resonate with our audience and drive action for your business.
Download our online media kit >>
"I use PTO Today magazine as well as the website regularly and have attended an expo. I love PTO Today! I can always count on them to have the most resources and information regarding all things PTO! Thanks, PTO Today!"
—Lisa Braga, PTO President,
Mission School, Soledad, CA
*Association of Fund-Raising Distributors & Suppliers (AFRDS)
Become an official PTO Today resource partner
Align your business with PTO Today by providing your parent group customers with access to the #1 school parent group website. To become an official PTO Today resource partner, simply add the PTO Today logo to your website, or share popular PTO Today content and resources on your site or social media channels. Get logo and resources
How to market your company to PTO & PTA leaders
Complete the form below to get our free guide on how to market your company effectively to PTO and PTA leaders.
Want to chat about your brand or company goals? Drop us a note.