Book a Lunch & Learn Session for Your Team (Lunch is On Us)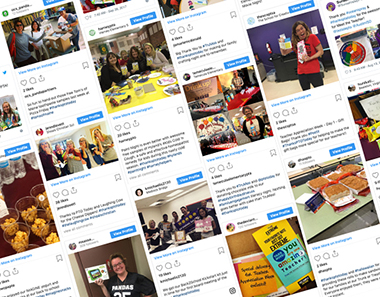 School Family Media has always been known as "the back-to-school company" to brands and agencies that know us, but now, our freshly baked website showcases all of the diverse capabilities we offer—and gives us a place to brag on all the cool stuff we've done and continue to do for our brand partners, of course.
At the forefront of school marketing, our trusted voice and brand platforms remain the cornerstone in helping other brands authentically engage school communities in ways that matter. For a long time, we've been like a best-kept trade secret to the brands who've worked with us. And now, you can learn more about how we can connect your brand with any of our core school audiences—teachers, parents, and PTO and PTA community influencers—and really dig into the success stories we've built for brands like Post-it, Mrs. Meyer's, Snyder's, UL, and LeapFrog.
Want to hear more? Get your team together for a Lunch & Learn session and enjoy lunch (on us) while we top-level all of School Family Media's robust capabilities (in person or virtually). Just drop us a note below and we'll reach out to schedule a day and time (and figure out what kind of good eats your team is into). We promise you'll walk away, mind blown, at just how much School Family Media can do to activate your brand across school communities.
In the meantime, here are a few helpful links to check out and bookmark:
• What we do (and love doing)
• Some pretty stellar work we've done
• The core school audiences we reach
• Company insights (get the scoop on schools, marketing and more)