Here's Why Top Agencies and Brands Average .53% to .90% CTRs With Us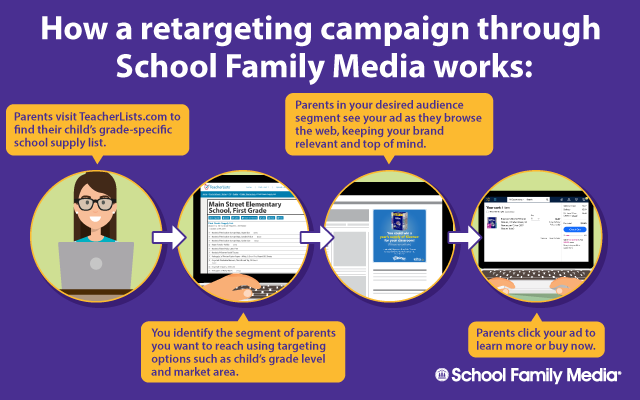 As we head into the new year, we're looking back at how we helped agencies like MindShare and Fuse Marketing and leading brands like Clorox, Kleenex, Paper Mate, Sambucol, and Frigo Cheese Heads move the needle with successful digital retargeting campaigns that averaged 0.53% to 0.90% CTRs, thanks to our one-two punch of audience segmentation and killer data.
Compared with the industry average of 0.07% CTR for display banner campaigns, it's clear why a data-driven digital retargeting strategy matters. The good news is that the digital retargeting wins for our clients don't stop once the back-to-school and Q4 holidays end.
Parents will soon be restocking—make sure it's your brand they're buying
Come January, it's return-to-school season for the millions of parents of school-age kids we serve. Winter break and the holidays are over, cold and flu are in the house (and all over the classroom), and moms and dads are here for it. Soon, they'll be restocking pantries with lunch box snacks, grab-and-go drinks, and cleaning supplies, replenishing medicine cabinets with gummy vitamins, immune boosters, cold and flu meds, and band-aids, and refilling backpacks with hand sanitizer and pencils that (gasp) actually have erasers. With a School Family Media digital retargeting campaign, you can hit your desired segment of parents with your brand's "buy now" message right as they're ready to shop (and stock up).
So, how are we able to deliver successful retargeting campaigns for our brand partners? TeacherLists, a proprietary School Family Media digital platform, hosts more than 1.6 million grade-specific school supply lists. Moms and dads visit TeacherLists.com to view their child's school supply list and teacher wish lists, and as they browse other sites, we deliver your ads to them, targeting your desired segment. Our unique ability to target ads to parents using criteria such as child's grade level and market area results in phenomenal CTRs.
To learn more about how we can craft a digital strategy that reaches your exact audience segment and drives clicks, drop us a note below. And, if you'd like to schedule a Lunch and Learn for your team (in person or virtually—lunch included, woot woot), we'll gladly walk you through our full capabilities presentation and share our secret sauce that allows your brand to reach the same parents you're reaching digitally with a custom sampling program at school family events, executed by our network of PTO and PTA "supermom" community influencers nationwide or in your desired market areas.