This School Won $10,000 for Arts Education From Frigo Cheese Heads; We Helped Make It Happen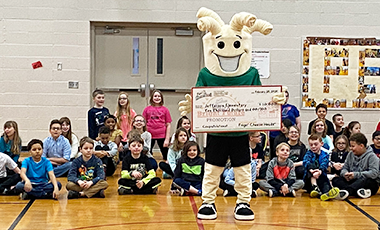 An Iowa elementary school now has $10,000 more for arts education and a whole lot of crayons, thanks to the generosity of Frigo Cheese Heads and an email the principal received from PTO Today.
As the grand prize winner in the Frigo Cheese Heads "Build a Bright Future" contest, Jefferson Elementary in Mason City, Iowa, received the cash prize and 500 three-packs of Crayola crayons. Principal Lindsey Millsap shared the good news with local media, giving a shout-out to School Family Media's parent group platform, PTO Today, and explaining that she learned about the contest in one of our e-newsletters.
We worked with Frigo Cheese Heads to promote the contest in print ads in PTO Today magazine, banner ads on PTOtoday.com, Back2School program flyers, targeted custom emails, social media outreach, and e-newsletters like the one Millsap received. During a two-month period in 2019, enthusiastic schools from across the country submitted 1,267 essays and videos, with each entry sharing how they would spend the prize money.
Jefferson Elementary staff and students celebrated the award when the Frigo Cheese Heads mascot visited the school to present a giant check.
The Mason City Community School District also spread the news of the school's big win on its social media channels.
School staff members have no shortage of ideas for how to spend the prize money. Their wish list includes publishing student writing, bringing in visiting artists, and buying outdoor musical instruments. We're betting students have plenty of plans for all those crayons, too!
Want to learn more about how School Family Media can connect your brand with schools, parents, and trusted community influencers? Read more about our work or send us a note using the form below.