Back2School® Program Offers Ideal Platform To Launch Brand's Community Relations Effort to Benefit Schools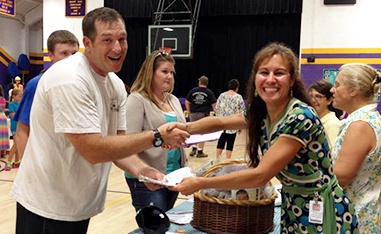 The Challenge
Frigo Cheese Heads, a leading manufacturer of cheese snack products, created the "Build a Bright Future" program to award grant money to K-8 schools. Frigo wanted to promote an essay contest and generate maximum entries in a tight, two-month (August-September) time frame.
The Solution
As the experts in marketing through schools, School Family Media consulted on a prize structure that would generate the most interest and yield the most entries. By promoting the contest through its popular Back2School® program, SFM simultaneously reached two audiences critical to making the grant program successful: school parent group influencers and engaged parents with school-age kids.
An approach that included print ads in PTO Today magazine, banner ads on PTOtoday.com, Back2School program flyers, targeted custom emails, social media outreach, and e-newsletters encouraged PTO and PTA leaders to promote the contest to their school's parents.
Back2School proved to be the perfect vehicle to jump-start the promotion with school families. Printed flyers, ads, and social media channels reached parents at a key time, when they're interested in programs, content, and news to help get the school year off to a great start.
The Results
Joining the Back2school program to reach PTO and PTA leaders as well as school parents yielded results that exceeded Frigo's expectations for the inaugural year:
• Essay contest entries: 1,500
• Media impressions: more than 9 million
Essays from parents, school parent group leaders and volunteers, teachers, and school administrators addressed needs for playground equipment, library books, band equipment, science lab materials, and weekend food programs for needy students. The overwhelming response led to the grant program's renewal and expansion—with higher awards to more schools—helping Frigo build a bright future for even more students for years to come.
2
months (August-September)
1,500
essay contest entries
9+
million media impressions
"The Build A Bright Future promotion stood out… I immediately went on Facebook to enter my children's school and learn more about the company. We've tried this brand and enjoyed it!"
School Parent Signet Research Survey 2014