Leverage PTO Leaders to Execute Turn-Key Sampling Programs Which Drive Product Sales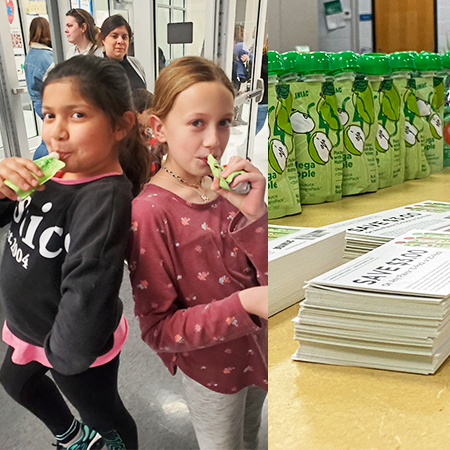 The Challenge
As a newer entry in the crowded kids' snack market, Brainiac Foods needed a unique way to stand-out and drive product trial. Limited inventory proved to be a challenge to execute in large quantities, opting instead for a voucher program. Brainiac also wanted to strengthen its relationship with a key account within its retail distribution channel to increase shelf placement.
The Solution
Brainiac, in consultation with School Family Media, designed a sampling program that would leverage the work of PTO leaders to execute a program. Since these leaders are mostly mothers with multiple kids in the household, they shop at their local retailers on a weekly basis. School Family Media secured 384 leaders from its proprietary database to receive product vouchers to redeem for FREE Brainiac product at a local Walmart store. School Family Media further ensured the registered PTO leaders were connected to elementary schools located within a 3-mile radius of a Walmart store which carried 2 or more SKUs of the Brainiac applesauce. The vouchers sent the leaders to the stores (where they likely filled a basket for her own family at the same time) to pick up 200 Brainiac applesauce pouches and then distribute to kids attending a school event with their parents between February – May 2022.
School Family Media employed the voucher method based on past program success and based on feedback from a recent survey of PTO leaders: When it comes to serving snacks and beverages at school family events, 86% of PTO groups are willing to visit local retailers to pick up free products using vouchers provided by School Family Media's family-friendly brand partners. (Source: PTO Today Survey: Insights Into 2022-23 School Year Planning, July 2022)
The Results
Across 384 schools, PTO leaders distributed Brainiac applesauce pouches to 65,000 families with kids ages 4-12 at Spring school family events. PTO and PTA leaders shared their event and sampling success with others through social media channels, and in a follow-up consumer survey:
• 74% product trial rate
• 74% purchase intent
• Top 3 product attributes identified (convenience of packaging, flavor, no-sugar added)
Through the client's pre/ post sales analysis tied to school event date, data revealed a positive sales lift among all Walmart stores located within a three-mile radius of a school which participated in the sampling program.
See It In Action
Come along with Meadow Park PTO as they shop for Brainiac snacks at Walmart and distribute to families at their school's Friendsgiving!
"Kids really seemed to enjoy the applesauce. I even saw a few bring it in the next day with their school lunch. I am sure parents will enjoy that generous coupon!"
Angelina Ferris
Brookwood Elementary School