Drive Product Trial through Custom Sampling Program to Teachers, Staff & Board Members ahead of Cold & Flu Season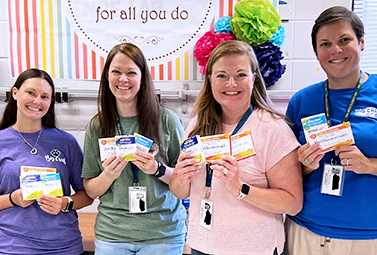 The Challenge
Boiron was looking to drive awareness, trial and purchase intent of their homeopathic products among the adults within a school community to help them stay healthy and attend to their school responsibilities during a key time of year: cold and flu season.
For a homeopathic product, Boiron needed assurance that a sampling program would employ a controlled distribution method, ideally by community influencers to lend an extra level of product endorsement.
The Solution
School Family Media activated a sampling program within its network of PTO and PTA groups in school communities, matching Boiron's core consumer demographic criteria and were near retail locations carrying the Boiron product. Serving as trusted brand ambassadors, 250 PTO leaders distributed a variety of Boiron products to teachers, school staff and board members via teacher wellness bars and 'self-care' swag bags including: Boiron StressCalm™ Meltaway Tablets, Boiron SleepCalm® Meltaway Tablets, and Boiron Oscillococcinum® Pellets.
The Results
250 PTO leaders registered for the program and distributed the Boiron products to 18,000 teachers, school staff and parent group board members. They shared their event and sampling success with others through their social media channels, and in a follow-up consumer survey:
• 79% reported personally speaking to teachers, staff and board members about the products
• 71% seek out/purchase homeopathic products for themselves or their family
• 65% disclosed they had already purchased or were likely to purchase the Boiron products
See It In Action
Watch as one PTO creates self care swag bags filled with Boiron product samples to distribute to their teachers and staff ahead of cold and flu season.
18,000
teachers, school staff, and PTO members
79%
personally spoke about the product to teachers and staff
65%
purchased/likely to purchase for their own families
"Boiron has worked with School Family Media on two very successful and targeted back-to-school sample programs. Each school registers for the program by a qualified and interested PTO group leader and is chosen based on its proximity to retailers that carry our products. At each school event, Boiron has exclusivity in front of teachers and administrators. The team at School Family Media is incredibly organized, collaborates and creates customized materials for use at the event, and provides updates on status and results. Highly recommend!"
—Barbara A., Product Manager, Boiron USA
"I really loved being able to share these amazing products with our staff and PTA! Our teachers enjoy their coffee and treats, but their health comes first. Thank you BOIRON for your generosity and putting our educators first!"
—Mandy Cantu
Henry Bauerschlag Elementary School