High-Touch Grassroots School Community Events Inspire Future STEM Leaders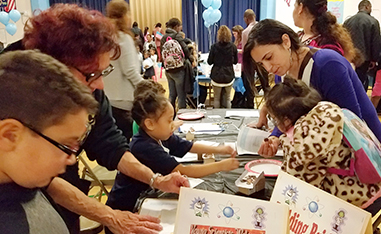 The Challenge
With its mission of providing safer living and working environments for people everywhere through the application of safety and environmental sciences and hazard-based safety engineering, Underwriters Laboratories (UL) was looking for a way to inspire a passion for STEM education at a young age while elevating the importance of the safety behind science.
The Solution
Through a partnership with School Family Media, UL encouraged students to become STEM leaders through Family Science Night—a high-touch, grassroots school community event. Organized by school PTO and PTA groups, these experiential events foster parent involvement in education (which is linked to higher rates of school success*) and spark an interest in science outside the classroom. The Family Science Night program provides a solution that powers hands-on, cross-generational STEM learning in a fun way. The science experiments are easily scalable for 200-plus people, allowing kids to explore science in a safe environment. Provided at no cost to schools, the program provides leaders who request the cobranded planning kit with everything to organize, promote, and host a Family Science Night, including instructions and supply lists for 25 activities that focus on core subject areas. Developed collaboratively by UL's education team and SFM's content team, all activities adhere to curriculum standards, are fully tested for safety, and appeal to a wide range of ages.
The Results
SFM and UL have brought Family Science Night to more than 28,750 K-8 schools and more than 4 million parents and children since 2012. 728,312 parents and children attended 5,138 Family Science Nights in 2018 (4,736,678 attendees at 28,750 school events since program launch). There have been 45,412,507 total impressions since program inception, keeping UL's name and mission consistently in front of community leaders.
PTO and PTA leaders and parents who attend the events complete surveys and share photos and videos from their event in their school community social channels. Of those who complete surveys:
• 88% of parents have seen an increase in their kids talking about science
• 98% of parents enjoyed experiencing their child's school as a place of STEM learning and fun
28K+
Family Science Nights
4.7M+
parents and children
"It gave the students an opportunity to experiment with their families. Students do not often get a chance to do experiments due to limited funds. These activities show staff and parents that simple projects can be done without spending a lot of money. Also, it just helps everyone to think about how everyday items can be used to explore more about the environment."
Pamela Miles
Gaston Elementary, Beloit, Wis.