Custom Program Generates Goodwill and Brand Loyalty While Helping Create Better Classrooms for Kids and Teachers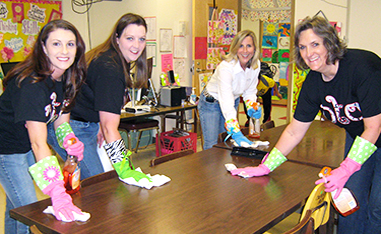 The Challenge
Bounty created the "We Love Our School" program, a national, weeklong volunteer effort to clean up classrooms to create better learning environments for students. They joined with School Family Media to launch a powerful marketing campaign to mobilize schools and tens of thousands of volunteers. The goal was to reach engaged, active parents to use Bounty and Procter & Gamble products and then to promote the campaign and the brands by word of mouth among their peers.
The Solution
Using its proprietary network of K-8 PTO and PTA leader moms, School Family Media secured 1,000 schools to hold classroom cleanup events with Bounty and Procter & Gamble products. More than 50,000 rolls of Bounty paper towels and 25,000 bottles of Mr. Clean were deployed in a "Clean Kit," along with planning ideas, teacher thank-you cards, and branded signage to promote the event. More than 25,000 volunteers used the products in an environment where parents want their kids to be healthy and safe but where germs and dirt flourish.
"We Love Our School" week was promoted with a custom digital campaign, including banner ads on PTOtoday.com and in e-newsletters, resulting in half a million impressions. Targeted media relations and social media efforts got parents and students excited about Bounty's support for cleaner learning environments for teachers and students.
The Results
School Family Media provided Bounty with a unique way to connect with moms with school-age kids in the place they most want them to thrive: their schools. Bounty products took center stage, receiving word-of-mouth buzz and brand goodwill, and program feedback overwhelmingly focused on the products' effectiveness and the company's generosity. Awareness for the campaign exceeded expectations, with more than 1.3 billion media impressions.
1,000
"more likely" to use Bounty products in the future
92%
credited Bounty with helping them build a sense of school community and pride
93%
"more likely" to use Bounty products in the future
""I was blown away by the quality of what we received. Parents and teachers alike were truly impressed by the program and all it offered to our school. Thanks, PTO Today and Bounty!"
Lori Barton
Arlington Park Elementary, Columbus, Ohio