Influential PTO and PTA Leaders Spread the Word About a New Product Feature at
Back-to-School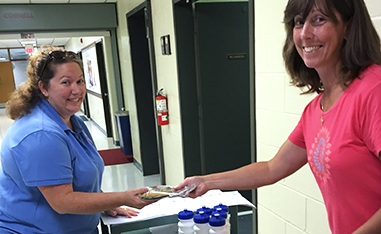 The Challenge
Snyder's of Hanover moved production of its pretzels to a peanut-free facility and wanted to spread the news to consumers. This change would make a big difference for families with peanut allergies that previously might have avoided Snyder's products.
The Solution
School Family Media's Back2School program was a perfect fit. School Family Media knew the announcement would resonate with families with school-age kids. According to Consumer Reports, almost one-third of schools have banned peanut products entirely (a number that is growing) and most others already have nut-free zones. Back2School offered the right audience and contextual environment for the introduction, using key influencers to spread the word.
More than half a million samples of Snyder's pretzels were included in the Back2School parent gift packs, along with coupons to encourage future purchase. PTO and PTA leaders personally distributed the packs to parents at back-to-school events across the country, calling attention to the new "peanut-free" logo on the sample.
The Results
The pretzels were a hit with families at back-to-school events, with 98% of families trying the samples. Fewer than 25% of the parents knew Snyder's were peanut-free before the back-to-school events—but after finding out, half of them indicated they would be more likely to purchase Snyder's. Overall, the reaction was overwhelmingly positive from school parents looking for snacks to bring into school that are safe for all students.
1,500
school PTO and PTA groups
500,000
parents and families
98%
of families tried the samples
"We recommend the pretzels to parents because they are made in a peanut-free facility, which is always a consideration when sending in snacks for group consumption. We also made sure they knew about the coupons!"
Karen Maloney, PTO president
West End Elementary North Plainfield, N.J.