Grassroots Teacher Sampling Program Results in Contextual Brand Engagement at the Classroom Level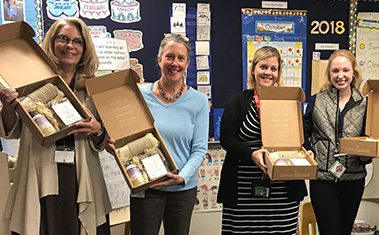 The Challenge
As part of their mission to grow compassion in schools across the country, Mrs. Meyer's brand wanted to help cultivate kindness in the classroom by providing free Growing Compassion Gardening Kits to teachers, but needed a cost-efficient and trusted school distribution channel.
The Solution
The ideal conduit for reaching teachers, School Family Media's network of engaged PTO and PTA leaders allowed the brand to efficiently reach and engage 1,000 K-2 classroom teachers at 200 schools.
Through a cobranded marketing campaign, School Family Media invited PTO and PTA groups at targeted schools to opt in for the chance to receive Mrs. Meyer's Growing Compassion Gardening Kits to share with their school's teachers in grades K-2. Each kit contained:
• Compassion Flower seeds, dirt, and planting cups for a garden-based classroom activity
• Mrs. Meyer's Compassion Flower hand soap
• "Growing Compassion" lesson plan and materials to help teach what it means to be compassionate
• $10 gift card to help teachers buy school supplies and other materials for their classrooms
The Results
Ahead of World Kindness Day, Mrs. Meyer's Growing Compassion Gardening Kits were hand-delivered to teachers by trusted PTO and PTA leaders at school. Teachers were overwhelmingly appreciative of Mrs. Meyer's investment of time and resources into helping grow kindness and compassion in their classrooms. An added, ancillary benefit for the brand: 98% of participating PTO and PTA influencers reported a "very positive" or "positive" feeling toward the brand, with 83% recommending Mrs. Meyer's brand products to colleagues, friends, and family—teachers included.
1,000
K-2 classroom teachers
80%
purchase intent among participating PTO and PTA influencers
83%
recommended to other parents by PTO and PTA influencers
"Teachers loved the special surprise. It tied in perfectly with what the children are learning. They were blown away by the thoughtfulness of Mrs. Meyer's."
Lorraine B., PTO president
Pearl Harbor Kai, Honolulu, Hawaii