Teacher Appreciation Week Sampling Program Reaches 500,000 Teachers With Two New Product Lines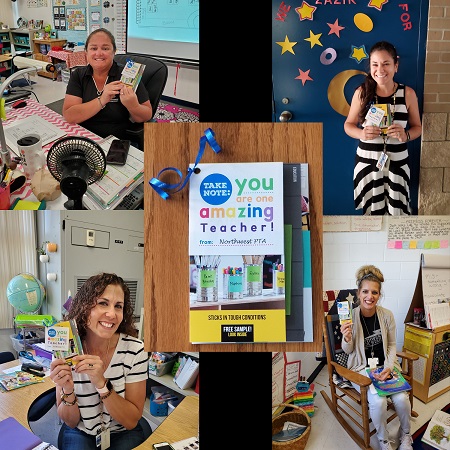 The Challenge
Post-it® was launching two new product lines, Extreme Notes and Super Sticky Notes, and wanted to encourage trial, purchase intent, and buzz among teachers during a key time of year, Teacher Appreciation Week.
The Solution
The ideal conduit for reaching teachers, School Family Media's network of engaged PTO and PTA leaders allowed the brand to efficiently reach and engage 500,000 K-8 classroom teachers at 5,000 schools. Through a cobranded marketing campaign, School Family Media invited PTO and PTA groups at targeted schools to opt in for the chance to receive samples of new Post-it® product lines to share with their school's K-8 teachers. Each school received the following:
• 50 brochures containing samples of Post-it® Extreme Notes
• 50 brochures containing samples of Post-it® Super Sticky Notes
• Printable thank-you notes that read "Take note: You're one amazing teacher!" sized for printing on a Post-it®, regular paper, or card stock.
The Results
During Teacher Appreciation Week, Post-it® samples were hand-delivered to teachers by trusted PTO and PTA leaders at their school. Teachers were overwhelmingly appreciative of the brand's investment in their classrooms and in children's learning. An added ancillary benefit for the brand: 80% of participating PTO and PTA influencers reported a "very positive" or "positive" feeling toward the brand, with 75% recommending Post-it® brand products to colleagues, friends, and family members—teachers included.
500K
K-8 classroom teachers
"Our teachers loved their Post-it Notes samples. Many were not aware of the new products Post-it had to offer and were especially glad to get samples to replenish their supply at this point in the school year."
Katie M.
Lincolnshire Elementary, Hagerstown, Md.