Influencer Sampling Program Helps Launch
Healthy Meal Prep Product for Busy Parents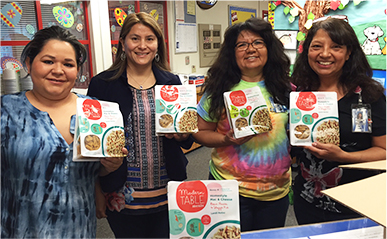 The Challenge
When Modern Table, a company started by moms for busy moms, wanted to encourage trial and awareness for its new, easy-to-prepare meal kits, it came to School Family Media. Our network of active, influential school PTO and PTA leaders—also busy parents—were the ideal brand ambassadors to test-drive the product and get other parents talking about how tasty, nutritious,and simple the meal kits were to prepare.
The Solution
School Family Media identified schools in Modern Table's key retail distribution markets and sent out a custom, co-branded email inviting PTO and PTA leaders to opt-in to receive product samples and coupons to share at their first PTO board meeting of the school year. Five hundred enthusiastic parent groups signed up to distribute the Modern Table meal kits at their board meeting, try the product at home with their own families, and share their feedback.
PTO and PTA board members ultimately spread the word to other busy parents at their school—the exact audience Modern Table wanted to tap into.
The Results
 
"We used some of the great pictures and testimonials from this PTO Today sampling program in our sales presentations, which helped us get into 1,500 retail doors nationally." -Curt Schoelkopf, former National Sales Manager, Basic American Foods
Groups adhered to the program guidelines, distributing the meal kits to their board members. Feedback gathered through an online program survey from parent group leaders indicated the meal kits were a hit. Participating PTO and PTA leaders also shared their appreciation and approval on social media, widening their influence beyond school families across their entire social network. The survey provided Modern Table with specific product feedback regarding product attributes, which they have since used to tweak ingredients for future products.
500
School PTO and PTA groups
82%
Recommended to other parents
"I personally am a fan of Modern Table after serving the sample to my picky kids and they loved it! We have since tried other flavors and really like the product."
Jennifer H., FSA president
St. Raymond School, Mt. Prospect, Ill.