Integrated Campaign for Frito Lay's New Kid-Friendly Snack Drives Awareness, Trial, and Purchase Intent at Back to School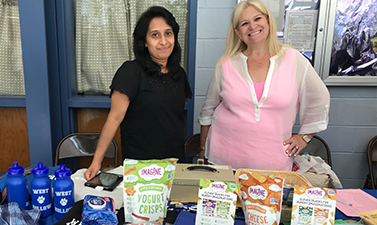 The Challenge
Looking to provide a convenient, nutritious, and affordable snack option for families, Frito Lay launched a new product line, Imagine Snacks. With many busy parents unfamiliar with this relatively new line of lunchbox snacks, the brand was looking for a turnkey way to drive awareness, trial, and purchase intent at scale among families in key markets at back to school.
The Solution
School Family Media developed an integrated marketing program to help Imagine Snacks reach its target market of parents with school-age kids in select DMAs within a contextual (and trusted) school environment. The campaign delivered the brand to parents at 2,300 school family events held throughout the important back-to-school shopping season and into Q4. Parents and kids sampled Imagine Snacks yogurt crisps or cheese stars at school events and received coupons to use toward their own future purchase of the product.
Through School Family Media's turnkey Back2School program, Imagine Snacks distributed 225,000 product coupons within category exclusive co-op gift packs distributed to parents by PTO and PTA nano influencers at schools in 11 of the brand's target markets. As Imagine Snacks had category exclusivity for the duration of the Back2School program, it was the only salty snack brand included in the gift packs. Six hundred participating elementary schools also received full-size bags of the snacks for families to sample during school events, along with branded table easels to display that helped educate parents about the brand's product benefits: The snacks are a good source of protein or calcium, are Non-GMO Project Verified, and have no artificial colors or flavors.
A separate opt-in custom sampling program provided 1,500 school parent groups with 150,000 servings of Imagine Snacks for distribution to families at fall events. Approximately 200 to 600 parents and children attended each event. A digital retargeting overlay campaign targeting parents ran concurrently with school events in those markets. The combination of sampling at school events and digital retargeting to parents further raised brand awareness and drove purchase intent, helping Imagine Snacks become a lunchbox snack of choice during the important back-to-school shopping season.
The Results
School Family Media's program significantly raised awareness and drove product trial for the Imagine Snacks brand among parents; data in follow-up quantitative and qualitative research surveys showed that 91% of parents at the schools had not heard of the brand before the program. After trying a sample at a school event, 81% of parents reported that they were likely to purchase or had already purchased an Imagine Snacks product.
The majority of parents who tried the samples said they plan to use or have already used the coupon (92% for cheese snacks and 86% for yogurt snacks), and close to half said they had recommended the product to family or friends (56% for cheese snacks and 44% for yogurt snacks).
An additional survey of PTO and PTA leaders at participating schools found that the program significantly raised the opinions these community influencers had of Imagine Snacks. After receiving samples, 100% of leaders said they felt "very positive" or "positive" about the brand, an increase of more than 50 percentage points. The influence and opinion of the school parent group leaders matters, as they often buy a large volume of snacks for school events. When leaders find a healthy snack that families like, it's a win-win, increasing the likelihood of the snacks being purchased for classroom events and family activities at school, such as family reading nights, school carnivals, family dances, and more.
The digital retargeting overlay campaign delivered for Imagine Snacks, too. The campaign ran simultaneously with sampling at school events, and resulted in more than 3 million impressions across parents in the brand's target markets. The click-through rate of 0.74% far exceeded the average ROS banner ad click-through rate of .07%.
475,000
samples of snacks provided to families
81%
purchased or likely to purchase
"The parents and the kids were so impressed with the delicious taste of the snacks! So many parents had never heard of this brand before now. They were so surprised at how good the flavor was. The overall feedback was extremely positive. The snacks were gobbled up and everyone took the coupons to use at their local stores."
Trisha Kozloski
HSA President, St. Rita School, Hamden, Conn.