How We Got Parents Buzzing About Welch's Fruit Snacks at Back-to-School Time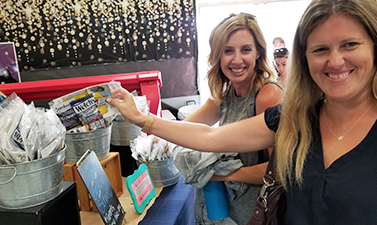 (Pssst: want to see a Back2School parent gift pack for yourself? Drop us a note at the bottom of this post and we'll get one right out to you!)
We got 500,000 moms and dads at back-to-school events sampling (and talking about!) Welch's Fruit Snacks during the busy back-to-school season when parents are thinking about easy, on-the-go lunch box snacks to add to their shopping lists.
This sounds simple enough, but it's powerful and effective: When your product is handed to parents from a peer they know and trust—like our network of influential PTO and PTA leaders during a school event—there's a level of implied endorsement you simply can't get anywhere else. In fact, 74% of millennial moms look to friends, family, and peers for parenting-related information*—and that includes the PTO and PTA "supermoms" they regularly see and connect with at school drop-off, family events, and fundraisers.
With our turnkey Back2School program, our network of PTO and PTA leaders *opt in* to personally hand our co-op parent gift packs containing your sample or printed piece directly to parents at back-to-school events (like meet-the-teacher nights and open houses). It's product trial leading to average 80% purchase intent at a key time of year, which is why brands like Welch's, Hyland's 4 Kids, Wowbutter, and Ocean Spray rely on our one-of-a-kind, turnkey back-to-school marketing solution. Not to toot our own horn or anything, but it's no wonder more than 500,000 parents were going gaga over our gift packs at back-to-school events last fall—with another 500,000 to go this back-to-school season. 😊
Want to see what all the buzz is about? Request a Back2School parent gift pack in the note below, and we'll get one right out to you!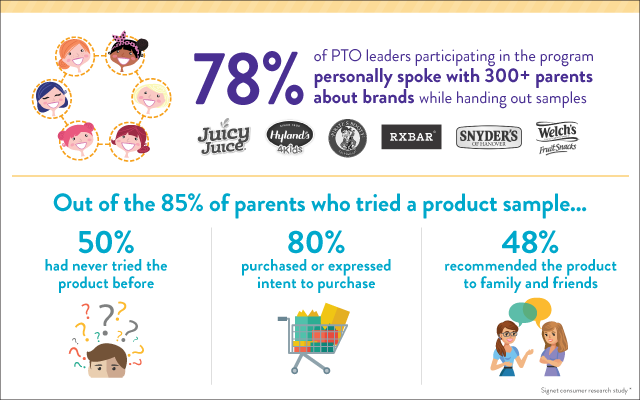 *Source: BabyCenter 21st Century Mom® Insights Series, 2014 Millennial Mom Report, January 2014