What's On Tap at SFM This Back-to-School Season (Hint: We're Dang Busy)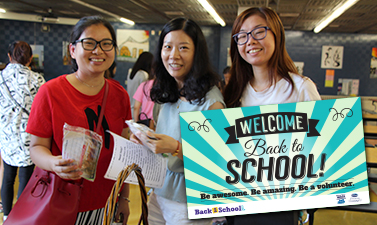 As the leader in activating school communities, we wanted to share what's on tap here at School Family Media for back-to-school 2019—let's just say our team of account strategists and marketing ninjas are very, very busy!
• We're getting ready to ship half a million parent gift packs to schools nationwide. Our network of PTO and PTA nanoinfluencers are chomping at the bit to get their hands on our free co-op gift packs that they'll personally hand out to (very excited) parents at back-to-school events. This year, we have 10 family-friendly brands participating—including Welch's Fruit Snacks, Wowbutter, and Hyland's 4 Kids.
• A very well-known brand in the salty snacks category will debut its new kids' snack through a custom sampling program at more than 2,000 schools—joining this brand will be Nice 'N Clean, ensuring that moms, dads, and kids have clean hands before they try the snacks. (Good lookin' out, Nice 'N Clean!)
• Ocean Spray will launch its new kids' juice product to 500,000 parents of school-age kids at contextual back-to-school events and meet-the-teacher nights.
• Stonyfield Organic will be activating a hyperlocal cause marketing and retail support initiative—along with sampling—at schools within a 5-mile radius of designated zip codes.
• Frigo Cheese Heads and Staples will be hypertargeting parents through digital retargeting campaigns, keeping their brands top of mind as parents shop online for back to school (officially the second-busiest shopping season of the year!).
• TeacherLists.com is handling the highest traffic volume ever, with the posting of 1 million school supply lists and counting. Clorox and Kellogg's are riding that wave with impressions delivered to parents right as they're viewing—and shopping—their kids' school supply lists. We make it pretty darn easy to remind Mom to add Rice Krispies Treats to her shopping cart, right along with the pencils and notebooks!
• You might not see us in their latest back-to-school commercials, but that's because we're behind the scenes, powering the data for Target's and Walmart's school supply initiatives.
Whew, right? The good news for your brand is we don't stop once school's back in session. We're already working with several brands on Q4 sampling and digital programs—and there's still time for your brand to get in, too. Along with programs geared toward parents, we can create custom experiential overlay events, like we did for Nintendo ahead of the holidays, and sampling programs directed toward teachers, like we did for Ogilvy and Mrs. Meyer's.
If you're looking to bring your brand to life with school communities, let's connect. We have thousands of engaged nanoinfluencers who opt in to participate in our variety of programs, a trusted distribution network, proprietary data, robust capabilities, and the creativity you need to help you reach and engage with your exact target audience. Let's chat about how we can activate your brand with school communities this fall and beyond. Drop us a note below and let's get that conversation started!