Our New Website Is Here, and Yes, It's Pretty Much As Awesome As We'd Planned It Would Be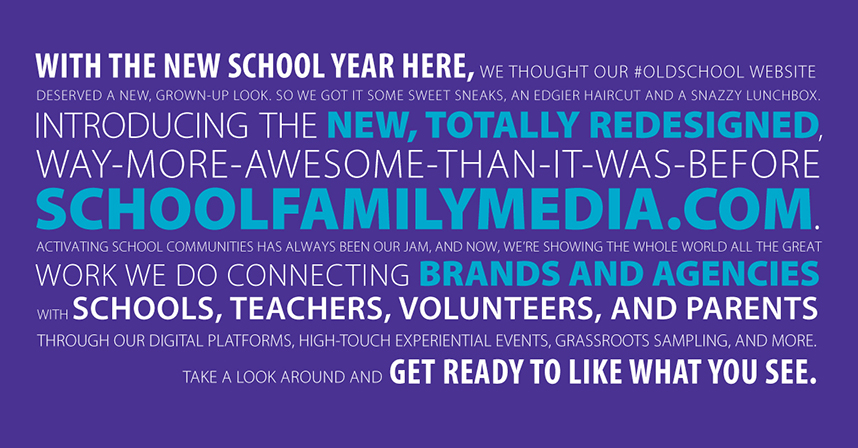 You know it's gonna be good when your lead marketing ninja opens the redesign meeting with a line like, "Hey guys, 1999 called, and guess what—it wants its website back!!"
As a company, we've changed a lot over the last twenty-plus years, and knew we needed a freshly baked website to streamline and showcase our capabilities (and brag on all the cool stuff we've done and continue to do for our partners, of course). Plus, with all the innovating we're doing here at SFM—like the new products and programs we've created to help brands and companies connect with our core school audiences—we just had to have a space to shout about all that good stuff. After all, this is a truly unique spot we sit in, right smack-dab at the intersection of schools and families.
For 20-plus years we've helped schools and families kick off back-to-school and have a successful year. TeacherLists and PTO Today, our nationally recognized platforms for school supplies and parent groups, sit at the center of the school community, connecting the world's top brands with schools, teachers, volunteers, and parents to ensure that everyone can win back-to-school.
We've revolutionized how schools share school supply lists, and how parents shop for them. It's why brands like Target, Walmart, Elmer's and Mead turn to us to help drive their back-to-school retail strategies.
We now have new and better ways to help brands and companies effectively reach our core network of nanoinfluencers—PTO and PTA leaders—and their millennial mom peers that are an integral part of school communities.
We continue to stay at the forefront of school marketing, our trusted voice and brand the cornerstone in helping brands authentically engage school communities in a way that matters.
So, go on and have a look around our new-fangled website. Check out our capabilities and learn more about how we can help your brand or company reach parents, PTO and PTA leaders, teachers, and school staff. Some cool stuff you might want to check out and bookmark:
Meet the team (who we are and what we do)
Company insights (aka our blog)
What we do (and love doing)
Some (pretty stellar) work we've done
The school audiences we reach
And if there's a bug you come across while you're poking around, know we've got a team of (really, really amazing and extremely talented) software engineers behind the scenes working out any last-minute kinks (virtual high five to those guys).
Welcome to the new SFM-dot-com. Drop us a note below if you'd like to connect!