Every PTO Today Live Expo event attracts hundreds of PTO and PTA decisionmakers who raise money and spend money on behalf of their schools. No matter what business you're in—fundraising, playground equipment, arts & enrichment programming, etc.—you can't afford to miss this unique opportunity to network with parent group leaders who are actively looking to meet with businesses like yours.

Reserve Your Spot
"PTO Today Expo events have more focused attendance than other shows. Everyone that came to our booth was a potential client."— Ryan Thompson, Mobile Ed Productions
Spring 2022 Schedule
New England (Hartford, CT)
March 1, 2022, 9:00 – 1:00
XL Civic Center
Book a Booth
Registration closes February 22
Houston (Conroe), TX
March 22, 2022, 9:00 – 1:00
The Lone Star Convention & Expo Center
Book a Booth
Registration closes March 15
Secaucus, NJ
March 29, 2022, 9:00 – 1:00
Meadowlands Exposition Center
Book a Booth
Registration closes March 22
Pasadena, CA
April 12, 2022, 9:00 – 1:00
Pasadena Convention Center
Book a Booth
Registration closes April 7
Chicago (Oakbrook Terrace), IL
April 19, 2022, 9:00 – 1:00
Drury Lane
Book a Booth
Registration closes April 14
Exhibitor Costs
Pricing is per event
Standard Booth (8′ x 10′) $995
Premium/Corner Booth (8′ x 10′) $1,195
Double Standard Booth (8′ x 20′) $1,490
Double Premium Booth (8′ x 20′) $2,300
What's included:
One 8′ deep x 10′ wide space
8′ high backdrop
3′ high side drape booth divider
One 6′ x 2.5′ clothed and skirted table
Two chairs
One wastebasket
One standard company sign
Up to 4 exhibitor badges
Tabletop: $300 (Arts & Enrichment companies / non profits only)
If you represent an Arts & Enrichment company or a non profit, learn more
Event Sponsorship Opportunities
National and local event sponsorships are available at all PTO Today Live expo locations. Space is limited.
National event sponsorship: $16,250 (includes all five events)
Local event sponsorship: $3,500 (per individual event)
Contact John Williams for sponsorship details.
"We met tons of vendors and got some great ideas! We have used two of the vendors that we met at the expo, and I'm about to contact a third for a Christmas event."— Shelley Taylor, Northfield PTO, Sparta, TN
Did You Know?
PTO and PTA leaders are highly influential parents in the school community. In fact, nearly 90% volunteer for at least one other community organization that relies on fundraising (ranging from scouts and sports teams to church groups), and 66% volunteer for three or more.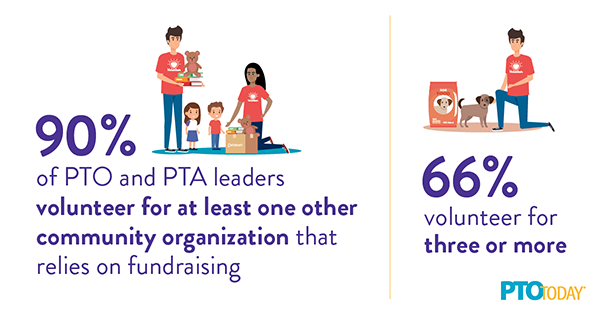 Join us—and let attendees experience everything your business has to offer!
Already Registered? Here's What to Do Next!
If you've already registered for an upcoming Expo event, we're looking forward to seeing you there! You can download your exhibitor kit here.