We're headed to four locations this fall! Every PTO Today Expo event attracts hundreds of active PTO and PTA decisionmakers who raise and spend money on behalf of their schools. No matter what business you're in—fundraising, playground equipment, arts & enrichment programming, etc.—you can't afford to miss this unique opportunity to network with engaged school parent group leaders who are actively looking to meet vendors like you.

REGISTER TO EXHIBIT


"PTO Today Expo events have more focused attendance than other shows. Everyone that came to our booth was a potential client."— Ryan Thompson, Mobile Ed Productions
Fall 2023 Expo Event Schedule
All Shows are 9-1 Local Time
 
Columbus, OH
September 13, 2023
Greater Columbus Convention Center
Short North Ballroom
400 North High Street
Columbus, OH 43215
Phone: (614) 827-2500
REGISTRATION IS NOW CLOSED
Link to Columbus, OH exhibitor kit
Chicago, IL (Tinley Park)
September 19
Tinley Park Convention Center
Exhibit South
18451 Convention Center
Tinley Park, IL 60477
Phone: (708) 342-5485
REGISTRATION IS NOW CLOSED
Link to Chicago, IL (Tinley Park) exhibitor kit
Dallas, TX (Mesquite)
September 27, 2023
Mesquite Convention Center and Exhibit Hall
Exhibit Hall A
1750 Rodeo Drive
Mesquite, TX 75149
Phone: (972) 204-1928
Link to Dallas, TX (Mesquite) exhibitor kit
Meadowlands, NJ (Secaucus)
October 17
Meadowlands Exposition Center
Main Hall
355 Plaza Drive
Secaucus, NJ 07094
Phone: (201) 330-7773
Set up times for all shows:
Day 1 – Set-up
4:00 pm – 6:00 pm Exhibitor set-up
Day 2 – Show Day
07:00-8:30 am Exhibitor set-up
9:00 am -1:00 pm Expo Hall Opened
1:00 pm -4:00 pm breakdown
Exhibitor Costs
Standard Booth (8′ x 10′) $995
Premium/Corner Booth (8′ x 10′) $1,195
Double Standard Booth (8′ x 20′) $1,490
Double Premium Booth (8′ x 20′) $2,300

What's included:
One 8′ deep x 10′ wide space
8′ high backdrop
3′ high side drape booth divider
One 6′ x 2.5′ clothed and skirted table
Two chairs
One wastebasket
One standard company sign
Up to 4 exhibitor badges
Pricing is per event
Tabletop: $300 (Arts & Enrichment companies / non profits only)
(If you represent an Arts & Enrichment company or a non profit, learn more)
Beware of list scams! PTO Today does not sell its list of Expo attendees.
Already Registered?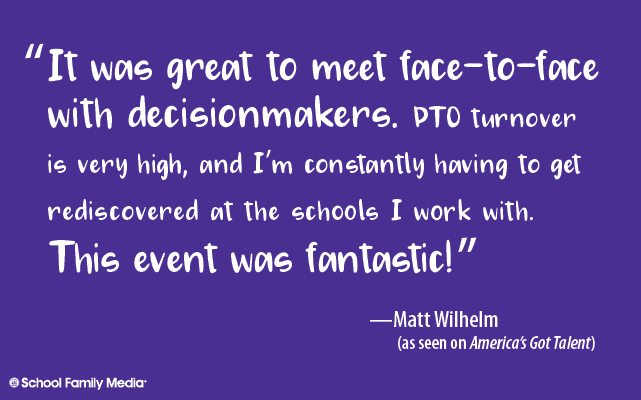 Event Sponsorship Opportunities
National and local event sponsorships are available at all PTO Today Expo event locations. Space is limited. Contact John Williams at jwilliams@ptotoday.com or 800-644-3561, ext. 201 for sponsorship details.
National event sponsorship: $19,500 (includes all six events)
Local event sponsorship: $3,500 (per individual event)
Did You Know?
PTO and PTA leaders are highly influential parents in the school community. In fact, nearly 90% volunteer for at least one other community organization that relies on fundraising (ranging from scouts and sports teams to church groups), and 66% volunteer for three or more.