Every PTO Today Live expo attracts hundreds of PTO and PTA decisionmakers who raise money and spend money on behalf of their schools. No matter what business you're in—fundraising, playground equipment, arts & enrichment programming, etc.—you can't afford to miss a PTO Today Live event. Stay tuned for our spring 2022 event dates and locations!


"We met tons of vendors and got some great ideas! We have used two of the vendors that we met at the expo, and I'm about to contact a third for a Christmas event."— Shelley Taylor, Northfield PTO, Sparta, TN
Fall 2021 Schedule
Edison, NJ
September 14, 2021, 9:00 – 1:00
NJ Convention & Expo Center
Registration is now closed 
Dallas (Plano), TX
September 21, 2021, 9:00 – 1:00
Plano Event Center
Registration is now closed 
NO COOKING ON SITE AT THIS LOCATION
New England (Marlborough), MA
October 5, 2021, 9:00 – 1:00
Royal Plaza Trade Center
Registration is now closed  
Exhibitor Costs
Pricing is per event
Standard Booth (8′ x 10′) $995
Premium/Corner Booth (8′ x 10′) $1,195
Double Standard Booth (8′ x 20′) $1,490
Double Premium Booth (8′ x 20′) $2,300
What's included:
One 8′ deep x 10′ wide space
8′ high backdrop
3′ high side drape booth divider
One 6′ x 2.5′ clothed and skirted table
Two chairs
One wastebasket
One standard company sign
Up to 4 exhibitor badges
Tabletop: $300 (Arts & Enrichment companies / non profits only)
If you represent an Arts & Enrichment company or a non profit, learn more
"PTO Today expos have more focused attendance than other shows. Everyone that came to our booth was a potential client."— Ryan Thompson, Mobile Ed Productions
Sponsorship Opportunities
National and local event sponsorships are available at all PTO Today Live expo locations. Space is limited.
National event sponsorship: $9,750 (includes all three events)
Local event sponsorship: $3,500 (individual event)
Get booth and sponsorship details
Already registered? Click here for shipping information or to order Wi-Fi and electricity.
Did You Know?
PTO and PTA leaders are highly influential parents in the school community. In fact, nearly 90% volunteer for at least one other community organization that relies on fundraising (ranging from scouts and sports teams to church groups), and 66% volunteer for three or more.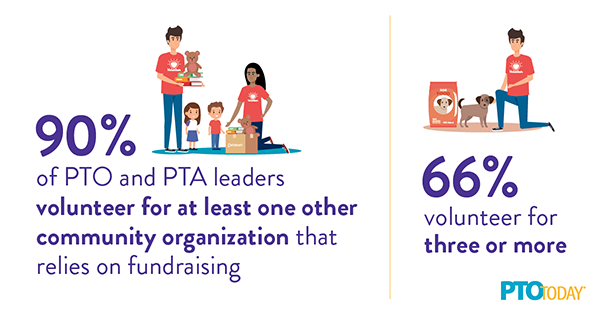 Still have questions? Check out our FAQs
Join us—and let attendees experience everything your business has to offer!