The PTO Today Live expo is the only one-day event that hosts hundreds of newly elected PTO and PTA leaders and booster clubs looking to meet businesses like yours. This is prime time for your company to connect with hundreds of school parent group decisionmakers as they make their plans for fundraising, holiday shops, spiritwear, events, arts & enrichment programs, and more. With several shows held throughout fall and spring, your company has the chance to connect with thousands of PTO and PTA leaders each season.

Book a Booth

Tabletops exclusively available to Arts & Enrichment companies


Booth costs
Standard Booth (8′ x 10′) $995 
Premium/Corner Booth (8′ x 10′) $1,195 
Double Standard Booth (8′ x 20′) $1,490 
Double Premium Booth (8′ x 20′) $2,300 
What's included:
One 8′ deep x 10′ wide space
8′ high backdrop
3′ high side drape booth divider
One 6′ x 2.5′ clothed and skirted table
Two chairs
One wastebasket
One standard company sign
Up to 4 exhibitor badges
I'm already registered. Where can I find the online exhibitor kit (forms, etc.)?
Sponsorship opportunities
Content Session Sponsorship 
Category-exclusive sponsorship of a content session presented by PTO Today. Sponsors receive recognition on event webpages, emails, and presentation materials—plus the implied endorsement of sharing the stage with PTO Today when introduced as the subject matter expert, and the opportunity to join the presenter for the Q&A part of the presentation. Limited topics and category exclusivity; content sponsorships are sold on a first-come basis.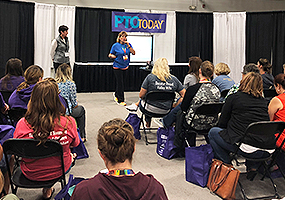 Follow-Up Email  
Include your company name with a live link to your website in the follow-up email sent to attendees after the event wraps. This is a great way to stay in front of parent group leaders and make it easy for them to follow up with you. Bonus: We also send a version of the email to other group leaders in the region who were not able to attend with a "here's what you missed" message so your name and link lands in the inboxes of thousands of qualified leaders.
Cost: $199* 
* You must register for a booth at one of the expo locations. Your follow-up email will be sent to registrants of the location where you exhibited.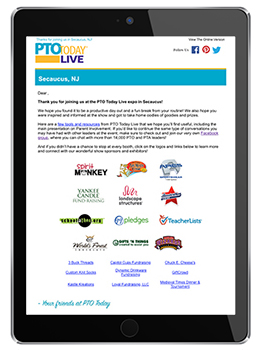 Product Sampling 
Include your product information and sample in the bag each attendee receives when registering. Leverage the event attendees who are influential community leaders and who are involved with three groups or organizations on average. Space is limited.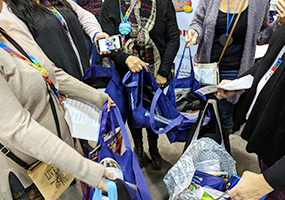 Audience Retargeting  
You know those ads that seem to "chase you around the Internet"? It's called audience retargeting, and it works. Our audience is created by the people who visit our website: PTO and PTA leaders. With a retargeting campaign, we put your ad in front of these leaders and we geotarget the same regions as our expos. Your ads are delivered in the weeks leading up to the expo and just after the event, keeping your product, program, or service top of mind for the leaders you'll meet in your booth.
Cost: $1,250 for 50,000 impressions*
*Inventory of impressions is limited. You must register for a booth at one expo location.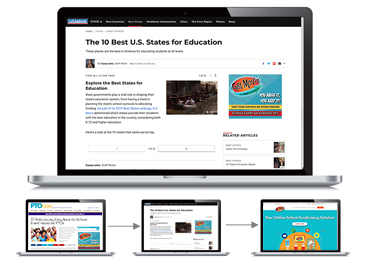 On-Site Focus Group 
We'll recruit 10 to 15 school parent group leaders to participate and arrange a room and breakfast for your focus group on the morning of the event. This is a unique opportunity to spend time with people who are not only school parent group leaders but also key community influencers.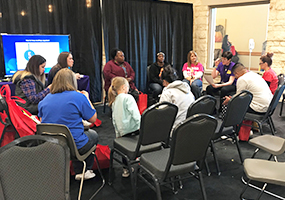 Still have questions? Check out our FAQs >>
For information about National or Local Sponsorship packages, call us at 800-644-3561, ext. 201.